laboratory information: managed
Test laboratories benefit greatly from a digital infrastructure where engineers can submit clearly defined test orders that can be carried out by the lab technicians without ambiguity. Combined with features to schedule and track the progress of lab work, eLim leverages all the capability of the Matereality software, from data analysis, to report creation and delivery – all within a single environment.
---
The eLim experience
eLim Process
My Lab: Requester selects desired tests from catalog. Shopping cart functionality
Order: Order system monitors incoming work
Inspection: Work request is inspected and scheduled by lab manager
Testing: Technicians perform tests and prepare data
Delivery: Data is uploaded to server and transferred to requester
capabilities
Create catalogs of available tests
Allow users to request testing from the test catalog
Schedule and monitor testing for the lab
Analyze data and create test reports
Deliver data and reports to the end user
configurations for eLim:
eLims Test Catalog
Detailed test catalogs can be created to help engineers select the desired testing. Tests can be assembled in a shopping cart. Testing request details are transferred directly from requester to technician after lab management review.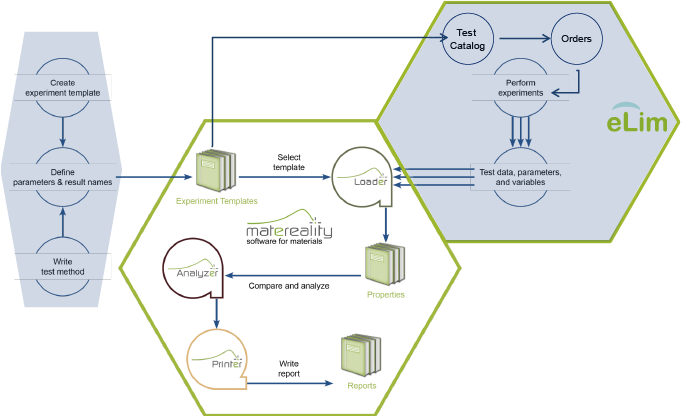 ---
Licensing
DIGITALIZATION SOFTWARE See All