Workgroup Material DatabasePro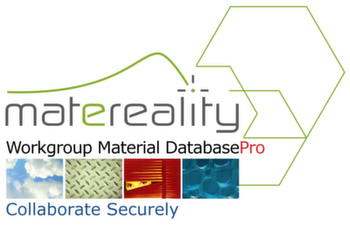 Workgroup Overview
A Matereality Workgroup Material DatabasePro license provides the necessary tools for building and maintaining a private collection of property data, CAE Material files, and testing reports for your team hosted on the Matereality cloud.
Matereality's suite of web-based material data management and productivity software helps you to collect, analyze, manage and use material data. The integration of material data with CAE tools strengthens the materials core of your group's PLM.
Key features of the material data management system
Collaboration
A centralized, secure materials knowledge core is easy to implement and manage for workgroups, whether colocated or dispersed. Data owners can selectively grant data access to individuals, or the entire Workgroup.
Database Building tools
Built-in data loading tools make it easy to collect your own Material definitions, testing data, CAE Material files, and testing Reports.
CAE Modeling tools
Workgroup members can use CAE Modeler software to convert material data into material files for most popular solvers. CAE material files can be downloaded for immediate use, saved in the CAE Materials library, or exported as Master Material files for deployment directly to supported software.
Testing Lab integration
DatapointLabs supports Matereality Workgroups with relevant, high‑quality material data. TestPaks® streamline material testing for your CAE by including all the testing and material parameter conversion required for a specific simulation, and all testing results and CAE Material files are direct deposited into your Matereality libraries.
Web browser requirements
All Matereality software is browser-based and requires no download to client computers. The following common browsers are recommended:
Microsoft Edge
Internet Explorer, version 9.0 or later
Google Chrome
Firefox
Webkit