Material Supplier Database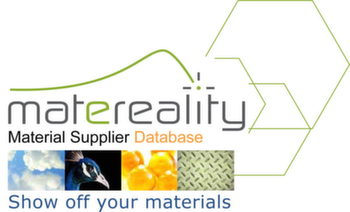 Supplier Database Overview
Offer your material data to your clients in full interactive detail. The Material Supplier Database is a fully scalable solution to store and showcase detailed data on all of your materials, no matter how complex - you can never outgrow your database. You and your clients can apply powerful software for advanced plotting of simple and complex data accompanied by analytics to instantly visualize data trends. Convert units, zoom, interrogate curves, share, or export data to Excel or CAE, all with the click of a button. All databases offer full access control - keep your data private, or share it selectively with your customers, prospects, and collaborators.
Key features of the material data management system
Workgroup access for your team
Collaborate with members of your team to build a traceable collection of property data to share with your customers.
Material data publisher
This is a special account controlled by an administrator who is responsible for your Material Database. The steward may be technical, or, in large organizations, an administrator who is supported by a technical expert.
Keep the database up to date
Modify material nomenclature
Review and approve new material property data
Link data with pertinent legal statements
Monitor data use using Data Access logs, record changes and modification made to any data
Manage multiple data collections
A Product Database can be created for the technical support specialist dedicated to each product line.
Control the status of data: public, private, or hidden, following your business practice
Approve the release of private data to qualified users of your Material Database
Monitor Access Logs to see who is using your data
Client Access to your Material Database
Access is free and unlimited to your clients. All clients need to obtain a unique global identification in order to access your Material Database. Registrations are managed by Matereality.
Client Outreach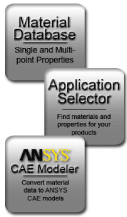 Manage how customers access your data, using either guest access or password protected licenses.
Customizable Portals put the power of Matereality databases and software on your website. Customers can use Matereality's search tools, DataViewer, and CAE Modeler software services all from your website or material database page. You'll get full Matereality functionality with your logo and design. Maintain control over your data at all times. Monitor usage of your data.
Custom Badges provide a direct link to tools for Technical Services (including CAE Modelers). Badges can be used on website, intranet, or in e-mails.
Material Database Badge: Create one-click access to your database.
CAE Modeler Badges: Provide a collection of CAE software ready material cards to your clients upon request.