Press Release August 7, 2014
Matereality Software Release Provides a Strong Materials Core for Manufacturing Enterprises
Matereality's Version 8 release provides a suite of productivity software that automates specific, materials-related tasks performed by different kinds of engineers within an enterprise. By operating from a unified library structure, all engineers interact with a common digital library, receiving information particular to their roles within the enterprise.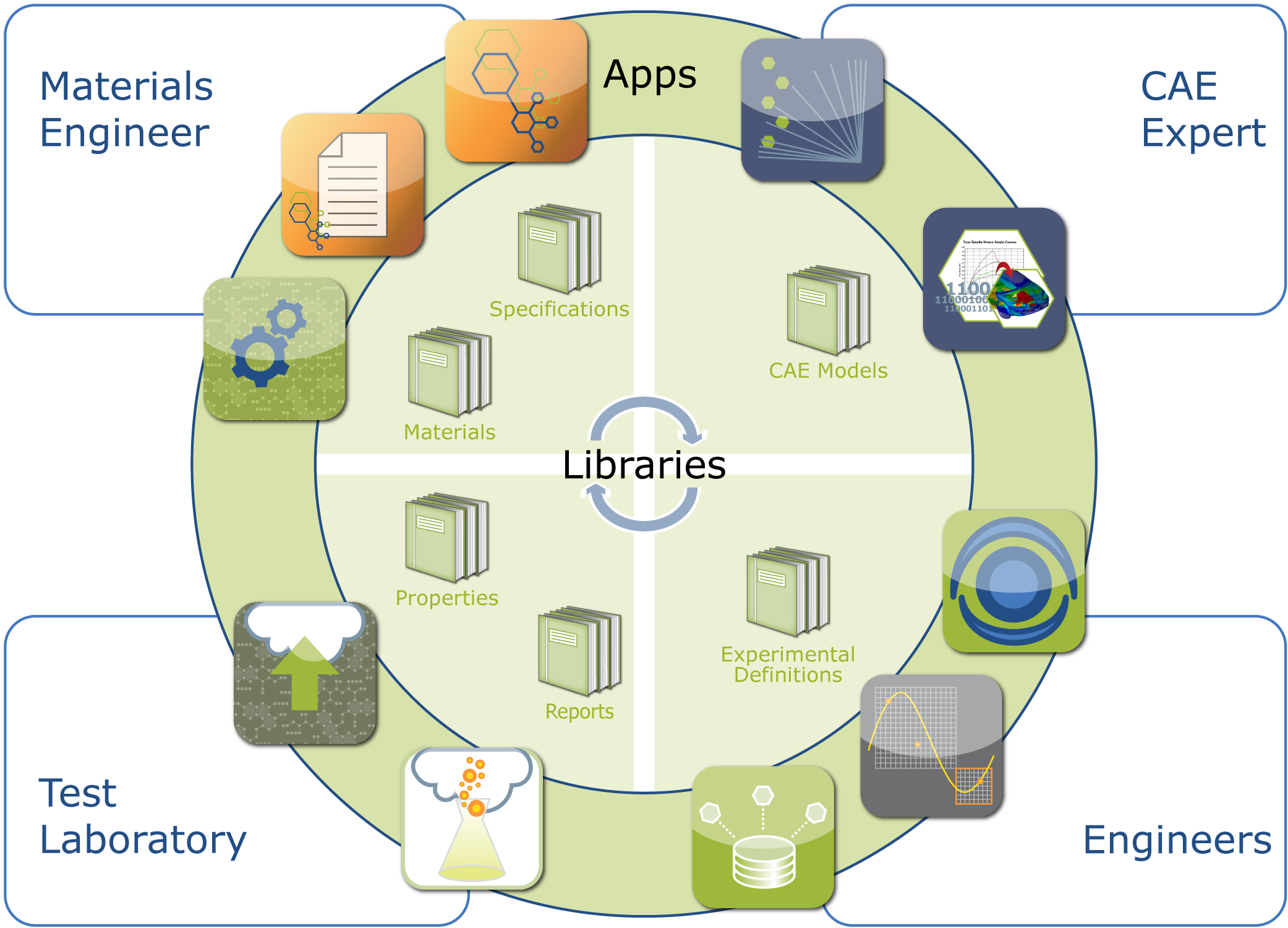 For example, the CAE expert can use the CAE Modeler app to create material cards for a particular CAE program, which are then stored in the CAE Models library. It is also possible to upload externally created material cards to the CAE Models library. The models can then be provided to non-expert CAE users for use in simulations. New features in the CAE Models library include the ability to tag a specific card with version details, and to share version-specific material cards. Further, users now are able to bundle all material cards they have created for a specific software and download them from their CAE Models library into their software in a single operation.
A materials engineer uses the Specifications Manager app to create material specifications with minimum and maximum properties values and targets which can be used to evaluate candidate materials for acceptance by the enterprise. He uses the Materials app to manage composition, processing information, certifications, MSDS and similar materials information.
For the test laboratory, the Data Loader and Materials apps provide an easy way to add materials data and test reports. Based on client feedback, the improved Loader software module allows for faster data grab and save operations.
All engineers can use the updated Viewer module and the more advanced Analyzer module to make sound engineering decisions regarding materials.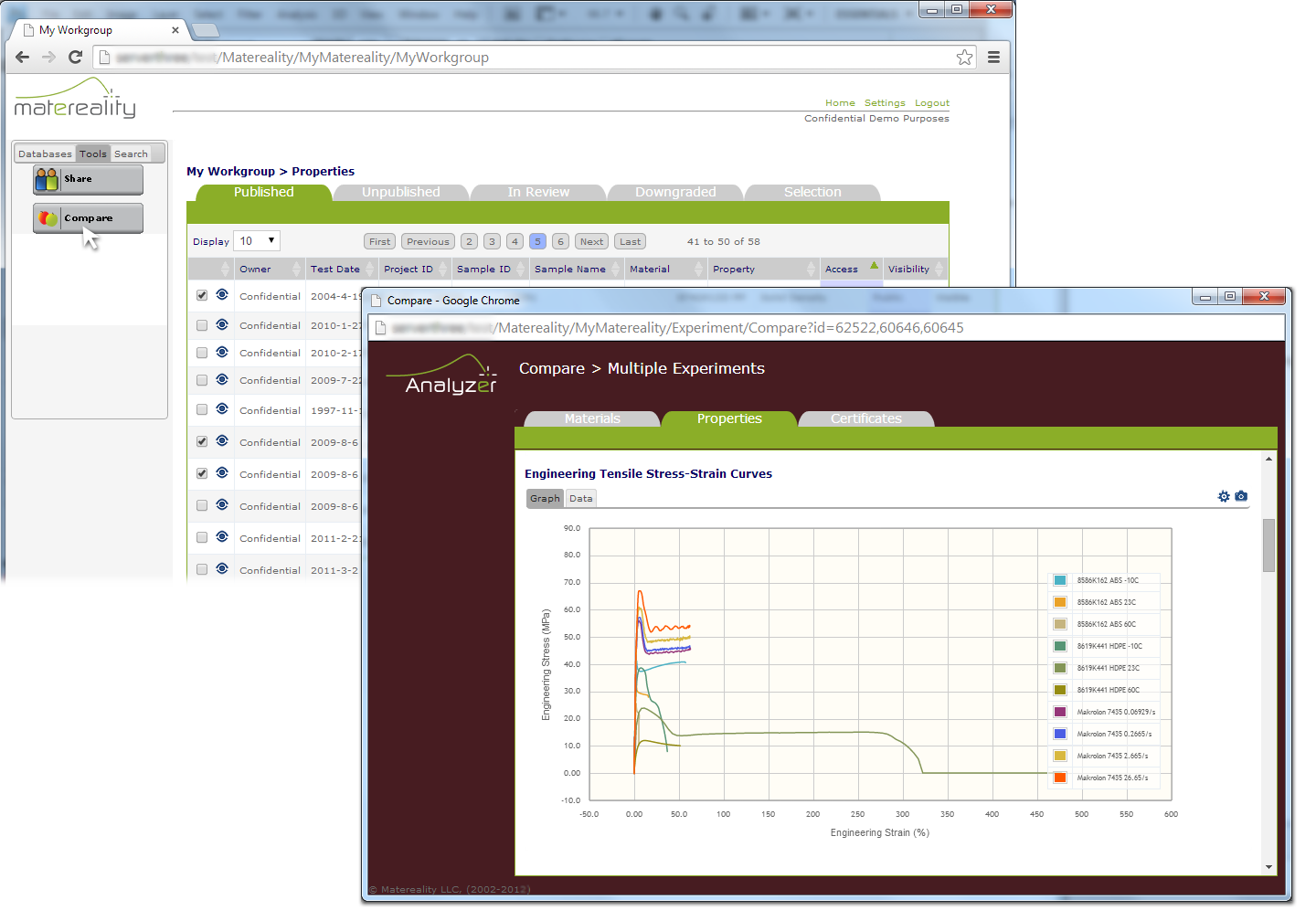 "Product innovation success relies on centralized data and knowledge resources that each engineer can relate to," said Hubert Lobo, President and CTO of Matereality. "This allows for projects to be completed more efficiently and eliminates risks associated with unmanaged material data, thus accelerating the pace of product development."
An important advance in Version 8 is the introduction of discrete, but interconnected, libraries to hold the different kinds of materials information that an enterprise would typically control. Each library now is separately managed, so that users can view, control or share material properties data, CAE material cards, test reports, or material specifications in a manner that is appropriate for their role in the enterprise. This sequestration allows for users to be exposed to highly specific information that is pertinent to their tasks via role-specific engineering apps.
Where the enterprises are not ready to for in-house deployment, Matereality offers a partial solution via a cloud service so individual engineers and engineering workgroups can achieve immediate benefits. Matereality's usage plans can smoothly scale as more of the enterprise comes online, until complete adoption is achieved. During the ongoing Version 8 upgrade for the Matereality Cloud, users with an active usage plan can evaluate Version 8 via a beta testing program. To participate, send a request to info@matereality.com.
About Matereality
Matereality, LLC, headquartered in Ithaca, NY USA, operates private and public cloud material databases for use in product design and manufacturing. Empowered by a suite of web-based software that allows users to work with material data for material database creation, management, data analytics and CAE material parameter conversion, these databases can store any properties of any materials. Matereality's ready-for-deployment, patented technology provides material databases and solutions for different needs, budgets and company sizes: a Personal Database for one user, a Workgroup Database for small groups, and Material Data Servers for manufacturing enterprises.
Matereality is an affiliate of DatapointLabs, LLC. Together, the companies deliver a comprehensive materials science resource, providing accurate material testing and software for centralized materials knowledge management that helps accelerate the pace of product development. The group has a diverse global user base, including automotive, aerospace, appliance, biomedical, consumer products, electronics, and material supplier verticals.
For more information, visit www.matereality.com, telephone +1-607-257-1784, or send email to info@matereality.com.
PRESS CONTACT:
Marcia Swan, Marketing Manager | Tel: +1-607-266-0405 | Email: swan@matereality.com
In Europe: Barbara Leichtenstern | Tel: +353 1 442 9204 | Email: leichtenstern@datapointlabs.com