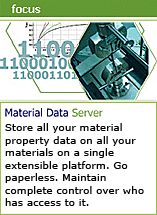 Press Release
Matereality® announces interoperability with Moldflow


Ithaca, NY – November 14, 2006
– Matereality, L.L.C., a leader in IT infrastructure for secure, global materials information storage and exchange, in cooperation with Moldflow (NasdaqGS:MFLO), has developed an interface to seamlessly pipe in material properties from Matereality® into Moldflow's injection-molding CAE software. Matereality has also released "MIRO for Moldflow", a search wizard that has been trained to extract material data specific to Moldflow. "Material data should flow into Moldflow as smoothly as the simulated molten plastic! We are very happy to offer this connectivity that Moldflow users have requested", said Renu Gandhi, VP Business Development at Matereality.


Matereality's web-based data management system can accommodate any property, any material. It is globally deployed and available to registered users anywhere, anytime, providing access to the largest collection of non-linear materials data suited for CAE, including s tress-strain curves; rate-dependent data; viscosity, PVT, Moldflow CRIMS and shrinkage data, thermal properties; and creep, viscoelastic, and fatigue data on plastics, metals, rubber, foam and composites. The data collection is distinct from, but complements Moldflow's own database, together forming the world's most comprehensive repository of materials information relevant to injection molding. In addition to providing material data suitable for injection molding CAE, Matereality provides access to plastics material supplier databases, the MMPDS-02 database for aerospace and defense and the NIST Lead-Free Solder Database for the electronics industry.
Russell Speight, Director of Material Technology, Moldflow Corporation , adds, "meeting customer expectations, and surpassing them is important. The ability to seamlessly pipe material data into Moldflow's products from Matereality has been requested by Moldflow customers, so it's logical that we meet their expectations", he also adds "using grade specific data is essential for accurate simulations, so this dynamic link is in-line with the vision of Moldflow Plastics Labs". Moldflow users can use Matereality to store all their materials information securely and have global access and control over it. They can hide, publish or selectively share data in keeping with their business needs, building collections that form an enduring part of the materials IT of their enterprise. Matereality also can be used to request access to material properties from people and companies that collaborate with each other. Users can assess data quality by reviewing certificates that accompany each dataset before exporting it digitally into Moldflow.

About Moldflow

Moldflow (NASDAQ: MFLO) is the leading global provider of design through manufacturing solutions for the plastics injection molding industry. Moldflow's products and services allow companies to address part and mold design issues at the earliest stage and maximize productivity and profitability on the manufacturing floor. Visit www.moldflow.com for more information.

About Matereality

Matereality, L.L.C. serves a diverse user base including automotive, appliance, tier-one, material suppliers and processors, electronics, mold makers , medical device and consumer product verticals with Web-based solutions for their material s information needs. Matereality allows individuals and enterprises to securely store any kind of material properties on a Web-based platform in TrueDigital™ format. For more information, visit www.matereality.com, telephone 1-607-257-1784 or send email to info@matereality.com.
Press Contact
Renu Gandhi
95 Brown Rd. #102, Ithaca, NY 14850
Phone: 607 257 1784 Fax: 607 266 0168
Toll-Free (US only): 1 888 DATA-4-CAE
Email: gandhi@matereality.com