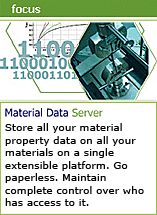 Press Release
Matereality® releases fully digitized MMPDS-02 Mil-Handbook at daratechSummit2006


February 20th, 2006
Matereality®, L.L.C., USA, announces the availability of The Metallic Materials Properties Development and Standardization Database (MMPDS-02), a preeminent reference source for aerospace component design, on its TrueDigital™ platform. The daratechSummit2006 provides a fitting venue for the release of this highly relevant body of data for product design, on Matereality's technology platform, digitizing it as never before.
The much-awaited release of this electronic version of MMPDS-02 (formerly Mil-HDBK-5) brings a number of advances to product design engineers in the aerospace and defense industries. MMPDS-02 complements Matereality's existing content of over 10,000 data sets of non-linear material properties, with a vast collection of statistically-based design allowable properties for metals. This collection of over 30,000 datasets includes stress-strain data, fatigue, creep and thermal properties in addition to conventional single-point properties.
Matereality®'s cutting edge visualization tools, instant unit conversions and CAE/FEA export capabilities will be applicable to all its content, including the new release. MIRO, the material data mining technology can be used to perform user defined searches. The MIRO CAE Wizard finds relevant data for CAE and engineering applications such as ABAQUS, ANSYS, Matlab, Moldex3D simulations, enabling targeted export of relevant data in ready to use formats. Standard MATML exports ensure interoperability with multiple downstream applications, now, and into the future.
Matereality®'s presence at the daratechSummit2006 is made possible by a Grant for Emerging Providers of New Technologies from Daratech, the leading technology assessment and market research firm for the CAE/PLM industry.
About DaratechSummit:
Throughout its 20-year history, daratechSUMMIT has been the place where users and industry insiders have met to share their visions, best practices, problems and challenges. DaratechSummit addresses today's globalized, digitally connected environment. Senior executives worry that their intellectual property remain secured and protected... that radical process changes do not create disruption... that the complexity of product, process and business structures can be handled by the systems they are installing... and that vital company knowledge and best practices are not lost as people leave, or made redundant. With so much close collaboration between customer and supplier, the complexities of PLM for large- and medium-sized companies are beginning to converge, and what was true for large companies is now true for an increasing number of smaller companies. This convergence will become apparent to all that attend daratechSUMMIT2006.
About MMPDS-02 Handbook:
MMPDS-02 (formerly Mil-HDBK-5) is the scientific source of metallic materials design data acceptable to Government procuring or certification agencies. It is produced through the joint effort of government, industrial, educational, and international aerospace organizations. A premier source of statistically-based design allowable properties for aircraft and aerospace materials and mechanical fasteners, it replaces its predecessor as the standard for mechanical and physical properties of metals in use in the defense and aerospace industries.
About Matereality, L.L.C.:

Matereality® material data management (MDM) technology allows enterprises to securely store any kind of material properties on a TrueDigital™ web-based system that is digitally integrated into the PLM platform. Data is always there, never lost; datasets can be selectively shared with authorized users in keeping with the business needs of Data Owners. Companies can create powerful, selectively visible databases for the use of their internal users, prospects and clients. It is a solution created with the awareness and agility to adapt to PLM needs of clients worldwide, from Fortune 500 enterprise solutions to small businesses, as VPD evolves. For more information, visit www.matereality.com or call 1-607-257-1784; email info@matereality.com
Press Contact
Renu Gandhi
95 Brown Rd. #102, Ithaca, NY 14850
Phone: 607 257 1784 Fax: 607 266 0168
Toll-Free (US only): 1 888 DATA-4-CAE
Email: gandhi@matereality.com