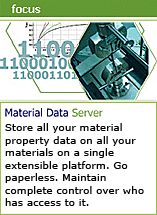 Press Release
'Matereality®

for A

LGOR'

Connects Users with Material Property Data for CAE Applications




Ithaca, NY � March 26, 2007


Matereality, L.L.C., provider of industrial-strength IT infrastructure for secure material information storage and exchange, has in cooperation with ALGOR, Inc. developed an interface that seamlessly connects Matereality® to ALGOR design and analysis software. 'Matereality® for ALGOR' allows users to mine databases for ALGOR-relevant data with Matereality's MiRo wizard and then seamlessly export the selected data for their finite element analysis (FEA) and simulation needs.


Matereality contains the largest repository of CAE-suitable data on plastics, metals, rubber, foam and composites, including stress-strain curves; rate-dependent data; tensile, compressive, creep and fatigue data. It allows users to access well-known databases such as the MMPDS-02 (formerly Mil-handbook), used widely by the aerospace and defense manufacturing industries, and the NIST Lead-Free Solder Database for the electronics industry.
In addition, Matereality's ability to house any material and any data means that ALGOR users can build enduring collections of material properties for ALGOR and PLM-wide use. Materials are never lost, always there and can be viewed using Matereality's cutting-edge visualization tools, subjected to instant unit conversion and CAE/FEA export capabilities. "'Matereality for ALGOR' provides our users with customized access to an industry-leading resource for material property data," said ALGOR Product Manager Bob Williams. "Using Matereality, customers can easily expand our default material library and conveniently apply properties to enhance the accuracy of their analyses."

Matereality satisfies the needs of users to have private databases, while providing valuable access to external databases. "Our vision is to create a global material data pipeline, serving various companies and PLM products. We are happy to add connectivity to ALGOR, a prominent player in this space," says Hubert Lobo, Matereality President.

About ALGOR

ALGOR, Inc. provides cost-effective solutions for design, analysis and simulation and enables engineers to virtually test and predict real-world behavior of new and existing product designs, speed up time to market and make better, safer products at a lower cost. The company serves more than 20,000 customers in over 95 countries in organizations such as 3M, The Boeing Company, Delphi Corporation, DuPont, General Electric Company, General Motors Corporation, Goodrich Corporation, Hewlett-Packard Company, IBM Corporation and NASA. Partnerships with other leading software companies offer data exchange with products from Alibre, Inc.; ANSYS, Inc.; Autodesk, Inc.; IronCAD, LLC; Kubotek USA, Inc.; MSC.Software Corporation; Parametric Technology Corporation (PTC); Robert McNeel & Associates; Solid Edge from UGS; SolidWorks Corporation, a Dassault Systemes S.A. company; and others. Educational support and customer service includes the use of Internet audio/video technology for distance learning and free, live software demonstrations.

Press Contact
Julie Halapchuk
ALGOR, Inc.
150 Beta Drive Pittsburgh, PA 15238
Phone: 412.967.2700 Fax: 412.967.2781
Email:jhalapch@algor.co
About Matereality

Matereality, L.L.C. provides industrial-strength digital repositories of material knowledge for manufacturing enterprises. With the ability to handle all materials, all properties used in automotive, tier-one, aerospace, biomedical, defense, electronics and consumer products, Matereality allows companies to build databases of traceable, high-value material properties never digitized before! Matereality's web-based TrueDigital™ platform pipes data seamlessly into PLM architectures, whether for CAE, product development or quality assurance.
Press Contact
Renu Gandhi
95 Brown Rd. #102, Ithaca, NY 14850
Phone: 607 257 1784 Fax: 607 266 0168
Toll-Free (US only): 1 888 DATA-4-CAE
Email: gandhi@matereality.com